Emmanuel
Gallina
"Simplicity is complexity resolved"
Constantin Brancusi
Elegance, timelessness and simplicity are the key words that best characterize the work of Emmanuel Gallina. He is constantly aware of line, shape and function while also paying special attention to details. After earning diplomas from E.N.A.D. in Limoges, the I.A.V. in Orleans and Politecnico in Milan, he collaborated for 7 years with Antonio Citterio on international projects before founding his own agency. Working in both Italy and France, he has collaborated with numerous brands such as Poliform, Cartier, Panasonic, Accor, Porada, AM.PM, Toulemonde Bochart and even ACRE made in Amazonia. He was chosen by Le French Design as one of the 100 top French designers.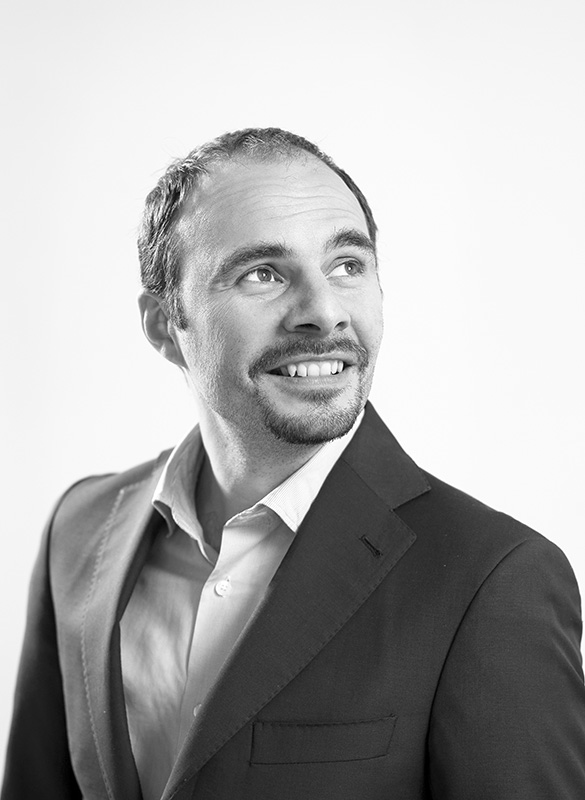 Arnaud
Lapierre
Actor on the international design and art scene, Arnaud Lapierre's studio claims for a multidisciplinary approach to creativity, taking up the challenge from object to architecture, from ecodesign to innovation, from cognitive art to experimental installation. Design is a way of seeing and understanding, a tool to create new uses, unique works and new stories to explore. His achievements in the fields of eco-design, innovation and industrial transfer are part of the Mobilier National collection, with a particular focus on Up-Cycling.
He has won several prizes and his work has been exhibited in numerous venues in Paris, in Switzerland and in Shanghai. In 2019, Paris Orly airport has permanently installed a major project: "Vertigo", a 10-meter-high mirror sculpture evoking air travel. After delivering the 12-meter "Sapin Verre" (Glass Fir) for Bordeaux City Hall, he signed a collaboration with musical artist Stromae, unveiled for the launch of the artist's latest album: an immersive experience in the Brussels metro. His collaboration with BELULL aims to anchor this brand in the emotional memory as an obvious reference around a 100% carbon fiber collection, always with the desire to respect the social and ecological integrity of the project.
Vincent
Poujardieu
Vincent Poujardieu's design is focused on furniture, objects and unique pieces. His design office is based in Bordeaux.
His creations are produced thanks to partnerships with high-performance manufacturers and unique craftsmen. They are a combination of this know-how and hyper-technological innovation.
His works, produced in limited series, have recognizable and fascinating characteristics. From a subtle balance and an interplay between full and empty emanates a real strength. It combines technological performance and sensual silhouettes inspired by nature. He designs pieces both for public or private commissions.
His works are regularly presented at fairs and events, in France and abroad. In 2012, Vincent Poujardieu received the "Connaissance des Arts" prize awarded by the National Academy of Sciences, Belles Lettres and Arts of Bordeaux.
In 2019, he won the FD100 VIA International Prize for the 100 best French designers.
In 2020, Mobilier National acquired two lamps from its NIDA collection. In 2021, two other models were also acquired for the French Embassy in the United States, now on display at the Villa Albertine in New York.
Baptiste
Gault
Freshly graduated from the Ecole Boulle, Baptiste Gault, as designer and photographer, works on the intrinsic links that exist between a material and its implementation processes. This vision is reflected in his photographic work where he pays particular attention to manufactures and materials.
Baptiste designed two collections for Belull. He has exclusively used carbon fiber materials from industrial production by standardizing profiles, in order to harmonize and enhance them in his creations.
Designers
One of BELULL's distinctive traits is its wish to be open, explore new ideas and innovate. To do this, we asked well-known designers to "tame" our carbon fiber by drawing inspiration from its shape and technicity. The principle of BELULL's collections is to propose a series of limited-edition, signed furniture groups created by designers in different fields.